Russian women seeking marriage, love and dating
We guarantee that ALL women in our database are available and actively looking for a husband.
We offer a 100% Satisfaction Guarantee - if you are not completely satisfied with our service, just contact us, and we will immediately give you 100% refund.
Do you know that you can receive 3 month access to ALL addresses, phone numbers and e-mails of beautiful Russian women from our catalog for as little as $ 19.00.

ID: 4602
Name: Elena Sofronova
Country(city): Russia (Perm)
Age: 31
Date of birth: 17 May
Weight (kg): 54
Height (cm): 176
Marital status: never married
Children: no
Languages: some English
About me: Hello! My name is Elena. I want to tell a little bit about myself. I'm 31 years old, I was born and live in the Urals, in the Perm city. I finished Perm medical academy, have a good profession – doctor-dermatologist. Now I'm interested in cosmetology. I'm quite independent woman, I have a lot of friends, but often I prefer the silence of the forest to the noisy company. My parents live in the suburb and I like to take care about the garden. I have a lot of flowers at home and I have a sweet kitten.
I dream to walk along the streets of London, Paris and so long.
Looking for: I want to meet a man who would love me, our children and our cozy home.
Contact information available: Address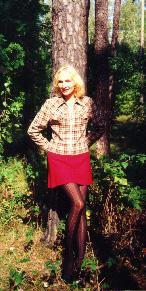 Current Members! Address of this woman is available for you in Members Area!
brwaest
Russian womin. Copyright © by Beautiful Russian Women Agency. All Rights Reserved. No part of this site can be copied without written permission from Beautiful Russian Women Agency